Joey grew up in Eastern NC & now calls the Raleigh area home.
After working from home for a small publishing company for seventeen years, Joey took on a part-time job as a petsitter with a local pet sitting company to be around animals more and to add a little variety to his daily ho-hum schedule. His first day pet sitting he realized this was what he should have been doing all along! He then decided to start his own company where he could be his own boss while doing what he loves best…looking after animals. Shortly after, All Critters Petcare came about.
Over the years he has cared for everything from reptiles to spiders to ferrets (and even a few cats and dogs, too)! He has a lifetime love for all animals and now shares his home with his cat, Abby; a very rambunctious Havanese, named Bailey; an even more rambunctious kitten named Betty, and a tarantula named Esméralda.
Joey recently became a Certified Professional Pet Sitter (CPPS) through Pet Sitters International (one of the few with this accreditation in the Raleigh area). This means he's been trained for a broad range of petcare best practices and behavior. He regularly participates in ongoing training and classes and passes this info onto his staff to ensure your pets always have the very best care possible.
He looks forward to caring for your furry, feathered & scaley family members while you're away from home.
---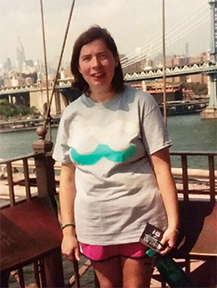 Melissa was raised in Carolina Beach, North Carolina. She moved to Wake Forest as a teenager and attended William Peace University earning her Bachelor of Arts in English and Literature. She is a published author and enjoys writing devotions on her blog and childrens' books. She enjoys helping others and works as a case manager with the homeless at her other job.
Melissa and her family have owned guinea pigs, dogs, cats, turtles and fish. Melissa also enjoys travelling, hiking, writing and meeting new people and animals.
---
Beth, a loving and supportive mom of one daughter and three pups, has always been an animal-lover. She grew up with lots of furry friends in her family, and as a former elementary school teacher, she's quite experienced in nurturing and training little ones!
A long-time Raleigh resident, Beth likes to take her three (somewhat spoiled) pups "out on the town" for walks and adventures. Beth is currently attending dog training courses and looks forward to sharing helpful tips and information with our team.
---
Raised in Lillington North Carolina. Attended Harnett Central High and went on to Central Carolina Community College to pursue nursing. After a few bumps in the road she temporarily changed her career path and became an EMT. Paola has a passion for helping and caring for others.
She has a 4 year old miniature schnauzer rescue named Lila. Lila is the protector of the house. Do not let her size fool you, she is ferocious.
---
Brandon was raised in Goldsboro, NC. He was raised in a military family, where his Dad served in the US Air Force. During his teenage years Brandon spent time on his father's farm with ducks, geese, chickens, horses and a cow.
Brandon loves running, hiking, swimming, kayaking and traveling. Recently he started listening to vinyl records. Brandon currently has a rescued Siberian Husky, Porter, who is thirteen years old and a rescued special needs German Shepherd, Jake, who is three.