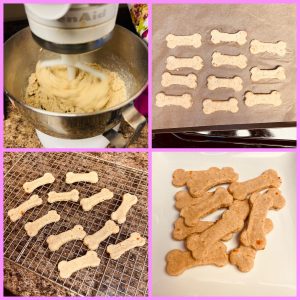 Ingredients:
1 1/2 cup oat flour
1 1/2 cup brown rice floue
1/2 cup shredded low-far cheddar cheese
6 slices of cooked bacon
1 egg
1/2 cup water
Preheat over to 350. Cook bacon slices, then finely grind them in a food processor.
Combine all ingredients (except the water) together, Add water slowly and mix until a dough forms (if too dry, add more water, too wet, add a little more flour). You mayb not need all the water if you reach a good consistency first.
Roll out onto a lightly floured surface to 1/4″ thickness. Use a cookie cutter to cut into shapes. Line a cookie sheet with parchment paper (for easy cleanup), and place the cookies on the sheet (they can be rather close together as they don't "grow" much while cooking).
Bake 22-27 minutes or until golden brown. Transfer and let cool completely on a wire rack. Store the cookies in an airtight container in the refrigerator.
Borrowed from the Organic Dog Biscuit Cookbook, available on Amazon.