Hi everyone!
The Summer is coming to an end, school is starting back and now that we don't have quite so many vacation/pet sitting visits each day, we'd love to be able to add a few more regular walking clients to our schedule each week. Our mid-day (early afternoon) schedule is just about completely full (although we do still have some availability), but we have plenty of availability in the mornings, later in the afternoons and evenings.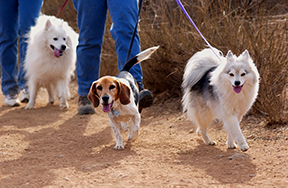 Whatever you need, whether it's an early morning walk &/or breakfast, a late morning walk, a quick potty break during the day, or a longer visit in the afternoon, we can help out. Most of our clients have a pretty regular schedule and schedule things several weeks in advance, but we try to be as flexible as possible.
Now comes the good part!
To help fill up our schedule, we're offering something we've never offered before…50% off of ALL of your walks for the first month you're with us. To take advantage of this you must be a new client, book at least 3 walks per week and pre-pay for four weeks of walks when you sign up. (after the first month you won't have to pre-pay, you'll be billed at the end of each week) Also, this special is for regularly scheduled (3 or more times a week) dog walks…not pet sitting, cat visits, etc. Although, we'd LOVE to help you out with those too. Give us a call, we have other specials for those type visits.
If you haven't used us or heard about us yet, we think you'll be pleasantly surprised. Unlike alot of the larger companies (and especially the "apps"), we're a small company and we pride ourself on personal service. We're locally owned and operated, fully insured and bonded, and have a ton of 5-star reviews on Google, Facebook & Yelp. Because we're small, you won't have some stranger coming into your home to look after your four-legged family member(s). Each of us have our own clients we look after each day but we're all familiar with the other clients on the schedule. If, by chance, your usual walker isn't available, someone who already knows him and is familiar can step right in to take over.
But, even though we're small, we offer many of the things the larger companies have. We have an amazing app (or, you can use the website, if you prefer) for scheduling, billing, and keeping everything in one place. With each visit you'll get a "report" letting you know we've come by with details of the visit and even pictures. We bill our weekly walking clients at the end of each week and you can use credit card or PayPal online or you can even leave us a check or cash the following week if that's your thing.
If you've never used a dog walking company but you've been thinking that one might make your life a little easier (& a little more fun for your pup), now is the perfect time to give us a try. And, if you're already with a company but might like to shop around to see what else is out there, we'd love to be able to help out and show you what sets us apart.
Don't wait too long because even though our schedule is pretty open, there isn't that many of us so there aren't THAT many open spots available. Once they fill up we'll have to end this special promo. Feel free to contact us with any questions. We're always available by phone (call or text) at 919-710-8709, email, or sending us a message directly on the site (there's a form just to the right on this page).
Thanks so much and we hope to be hearing from you & meeting you and your pups soon!
Take care,
Joey Buchan
Owner, All Critters Petcare