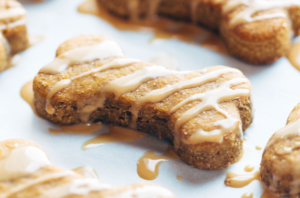 If you're like me, you probably love spoiling your pups. I'm not a big cooker but I do enjoy making things for Bailey. He absolutely loves these cookies & I bet your dogs will too! Made with pumpkin & drizzled with a mixture of bacon & peanut butter…what dog wouldn't?!
Cookie Ingredients:

1 cup pumpkin

2 eggs

1/2 cup peanut butter (be sure to use organic peanut butter, xylitol is toxic to dogs)

2 1/2 cups whole wheat flour

1 teaspoon baking soda

1/4 cup oil
For the glaze:
1/4 cup smooth peanut butter

2 tablespoons bacon grease, coconut oil, chicken fat, or any other fat that will solidify at room temperature
Preheat oven to 350 degrees.

Combine pumpkin, peanut butter, eggs, and oil in a bowl. Add in baking soda and whole wheat flour. Stir until a stiff dough forms. Knead dough or mix just until flour is incorporated.

Roll out dough with a rolling pin and use a cookie cutter to cut out dog bone shapes, or just bake into little circles like cookies. Bake for 15 minutes.

Whisk the bacon grease and peanut butter until very smooth. Drizzle over the treats and cool till glaze hardens (it does best in the fridge or freezer).
As with any recipe you'll be making for your dogs, be sure to double check the ingredients in case your dog might have any food allergies or reactions.
by Joey Buchan
Related articles: