Hi everyone!
The Summer is coming to an end, school is starting back and now that we don't have quite so many vacation/pet sitting visits each day, we'd love to be able to add a few more regular walking clients to our schedule each week. Our mid-day (early afternoon) schedule is just about completely full (although we do still have some availability), but we have plenty of availability in the mornings, later in the afternoons and evenings.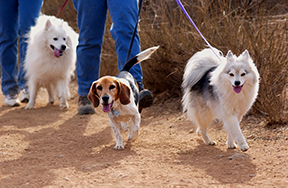 Whatever you need, whether it's an early morning walk &/or breakfast, a late morning walk, a quick potty break during the day, or a longer visit in the afternoon, we can help out. Most of our clients have a pretty regular schedule and schedule things several weeks in advance, but we try to be as flexible as possible.
Now comes the good part!
To help fill up our schedule, we're offering something we've never offered before…50% off of ALL of your walks for the first month you're with us. To take advantage of this you must be a new client, book at least 3 walks per week and pre-pay for four weeks of walks when you sign up. (after the first month you won't have to pre-pay, you'll be billed at the end of each week) Also, this special is for regularly scheduled (3 or more times a week) dog walks…not pet sitting, cat visits, etc. Although, we'd LOVE to help you out with those too. Give us a call, we have other specials for those type visits. [Read more…] about Our End of Summer Dog Walks Promo