Responsible Pet Ownership Awareness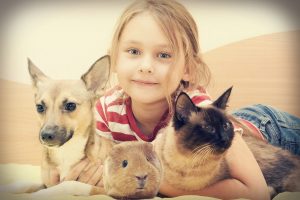 February is Responsible Pet Ownership month, but responsible pet ownership is something that should be considered every single day.
Responsible pet ownership awareness should be at the forefront of your mind regularly. Ownership responsibility applies to pet owners, those that wish to bring a pet into their home and even those that simply wish to encourage others to exercise responsibility in pet ownership. All pets have very specific needs that should be considered before you ever even bring a pet home, no matter what type of pet it is. These needs should also be reflected on regularly once you do, in fact, own a pet.
Commitment
Responsible pet ownership begins, first and foremost, with the acknowledgment and commitment to caring for the pet for the duration of a pet's life. Too many pets end up neglected, surrendered to shelters or even abandoned on the streets when their owners becomes unable or unwilling to continue to care for them. Carefully considering what needs a pet requires up front can drastically reduce the population of unwanted dogs and cats.
Health
Responsible pet ownership requires routine veterinary care. Pet owners must regularly take their pets to the vet. Veterinary visits include preventative care such as vaccination and well exams. It also includes care for unexpected illnesses or injuries. Pet owners often neglect to consider end of life care needs as well. This all can become very costly if you are not prepared in advance for it. Many pet owners invest in pet insurance while others contribute regularly to a sinking fund that is designated specifically to their pet's health and wellness.
Diet
Responsible pet ownership means feeding your pet a healthy diet. A pet's diet is very important in keeping them healthy and happy. What you feed your pet helps to build strong bones and muscles, promotes a healthy shiny coat and also promotes sharp mental health, too. Many cheap dog food brands fill their dog food with fillers that do the very opposite of this. Even with the best of intentions, a pet may become allergic to certain additives, proteins etc. and a pet owners may become forced to switch their pet's diet. It's never too late to consider what you are feeding your pet. This takes time to research and can become more costly than what many pet owners realize.
Spay or Neuter
Responsible pet ownership requires you to spay or neuter your pets. Spaying or neutering your pet reduces unwanted animals. Every year thousands of animals end up surrendered, abandoned, rehomed, and euthanized. Not only does spaying and neutering reduce unwanted populations of pets, it also has other important benefits. Doing so reduces aggression as well as the desire to mate. Pets that are looking to mate are flight risks and that is often how unwanted litters of animals happen. Spaying and neutering also prevents health issues in pets such as cancer.
Pet Proof
Responsible pet ownership means putting your pet in a position to be properly identified. Even with the best intentions, a pet can easily become separated from the family. Dog tags and microchipping are common ways you can keep your pet easily identifiable in your absence. In fact, doing both of these things will be best because collars and tags can be removed. Microchipping your pet is a minimal expense and is worth its weight in gold. If someone finds your lost pet you want that person to be able to contact you right away so you must also be sure to keep the registration for the microchip up to date.
Exercise and Socialization
Responsible pet ownership requires time on your part to provide your pet with regular exercise and socialization. Both of these are very important and require you to set time aside every day. Exercisepromotes strong bones and muscles as well as reduces the likelihood of obesity in your pet. Obesity and lack of exercise are linked to health issues and diseases in pets. Socialization is often overlooked, but it will not only help your pet feel brave in the world around him, it will help him practice good manners when around other people and pets. Regular socialization reduces many problem behaviors that often cause pets to be dropped at the shelter due to frustration on the part of the pet owner. Many pet owners now enlist our services to help with exercise and socialization when work and family obligations prevent them from keeping a regular schedule in doing so.
This is only the beginning of responsible pet ownership, friends. Whether you currently have pets or thinking of getting one, please keep responsibility at the forefront of your mind and remember, pet ownership is for life. Commit to being the best caregiver and advocate for the furry (or not so furry) lives that you assume responsibility for. Questions about pet ownership? We are here to help!