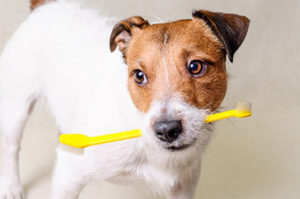 February is National Pet Dental Health Month so we thought we'd spend a little time this week talking about what you can do to help keep your dog's teeth clean and healthy.
Neglecting your dog's teeth can lead to many serious health problems, the least of which is bad breath.
The most commonly known to most people is heart disease and infection in the heart valves. Bacteria from your dog's mouth travels to the heart where it can cause bacterial endocarditis, causing permanent damage to the cardiac tissue and lead to heart disease and failure. Other serious issues could be liver abscesses and sepsis, where bacteria enters the blood stream. Both can be treated but it's very expensive and often not successful. Because of painful teeth and difficulty eating, many dogs will develop poor appetites which can lead to even more problems. And lastly, osteomyelitis, a painful bone infection can lead to a broken jaw that is very difficult to heal.
[Read more…] about February is National Pet Dental Health Month