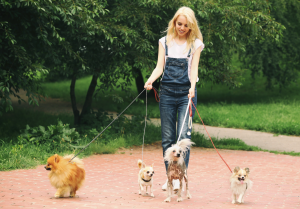 Finding petcare providers that fit your specific needs can be a huge benefit to all pet owners. Vacations, long work hours, unexpected life events, a great opportunity, or just getting your dog some extra exercise could be any reason to trust your pet with another person. However, for a lot of owners, trusting someone with your beloved pet can be a stressful experience. This can often be stressful for pets as well. Professional pet sitters provide a reliable and trustworthy solution, all while letting your pet stay in the comfort of their home.
A professional pet sitting company can help relieve some of this stress by providing your pet individualized care. Professional pet sitters have procedures, licenses, and the experience to provide comfort to you and your pet during visits, and have a network of other professional pet sitters to fall back on in the case of an emergency. We also maintain a high level of communication with you, the owner, while your pet is in our care.
At All Critters Petcare, our entire team of pet sitters is caring, professional, knowledgeable, and flexible. Our company is fully insured and bonded, which covers all of our sitters, and protects your pets. We follow strict policies and procedures that ensure the safety of your pet, and that they receive all of the love and care they need when you need our services.
Our team has experience with an extensive variety of animals, ranging from dogs and cats, to exotic birds, and tarantulas. This provides us with the knowledge and experience to watch out for medical concerns, help with small training goals, and keep you thoroughly informed of your pets condition. Perspective from a professional pet sitter could catch a small, gradual decline in your pet's health between regular check ups, that might have been imperceivable with constant observation. We have experience with timid nature animals, all the way to a gregarious and goofy golden retriever.
Professional pet sitters at All Critters Petcare are flexible and reliable. We can guarantee this because our team relies on each other as backup in case of emergencies. If a sitter can not make it to a scheduled visit for any reason, there are procedures that ensure your pet still receives the care they require. Everyone at All Critters Petcare is compassionate and willing to help where needed. We all feel a sense of responsibility to every client we offer our services, and we all sincerely love animals. We want your pets to be taken care of based on the exact routine you provide through our online portal. By communicating amongst our team, with you, and your pet through behavioral cues, we can provide comfortable, reliable care for your pets.
At All Critters Petcare we pride ourselves on our communication. During and immediately after a scheduled visit, your professional pet sitter will provide a journal that includes a thorough checklist of events, a short, personalized paragraph describing the visit in detail, and a couple of pictures from the visit. This journal is important to provide you comfort that your pet is receiving the care they need. It also helps other members of our team understand what is going on with an animal; if they are comfortable, eating, drinking water, using the bathroom regularly, and other details.
The list of benefits that professional pet sitters provide is extensive. Professional pet sitters are not run-of-the-mill dog walkers; they are professionals. We have licenses and insurance to protect your animal. We provide an elevated level of knowledge, compassion, and experience when it comes to all pet personalities and breeds. Consistent communication will provide you with peace of mind when you do need help caring for your animal. When you trust your pet with All Critters Petcare you receive a professional and personalized experience, starting with your new user registration on our website, and throughout every visit you schedule with All Critters. We are confident our services will make you feel that you made the right decision when you hired a professional pet sitter through All Critters Petcare.