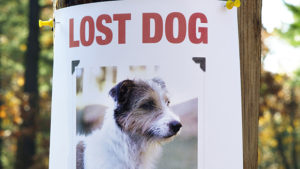 As a pet owner, as well as a local pet sitter, I can't think of anything more frightening than the thought of a lost cat or dog. The fact is that 15% of pet owners report having lost a cat or dog sometime in the past 5 years. Of those pets, about 93% of dogs and 74% of cats eventually find their way home safely. Taking a few precautionary steps early on and also getting an immediate start once something happens can help to increase these odds.
An Ounce of Prevention
All dogs (& most cats) should have a collar with their name and contact information, either on a tag or printed on the buckle or stitched into the collar. About 15% of found dogs were returned home just because of this very simple and inexpensive step. Microchips are another very useful tool, but a dog (or cat) must be at a shelter or a veterinarian's office in order to be scanned. A collar with their name on it is the fastest way for someone to get in contact with you.
Although a collar is often the fastest way someone will contact you, a microchip is another more fool-proof way that your pet will find it's way home. Collars can fall off or be removed, but a microchip is there to stay. However, a microchip is only as good as the information you have registered with the microchip company. It's imperative that this information is kept current and up to date so that they can contact you if your pet is picked up.
Spaying or neutering your cat or dog doesn't just have health benefits, but it also helps to keep some pets a little closer to home. Altered dogs usually have less inclination to wander off if they're not looking for love.
If you keep your dog in a fenced-in area outside, always keep gates locked and check them often in case someone else was to leave one opened and/or unlocked. If your dog is a "digger", check the perimeter often. It should also be mentioned that other than in your fenced-in yard or a fenced-in area or dog park, dogs should never be left to run off-leash (at least in the city). Not only is it unsafe for your dog, depending on where you live, but you could also be in violation of the law.
Another tool that people can use these days are GPS tracker collars. If you happen to let your dog run off leash (lots of people in the country do), this is an excellent way to know 24/7 where they are. Here is a link to a few dog tracker collars currently available on Amazon.
Plan ahead
Most of us with pets are always taking pictures of them. Some are good, some are great, some aren't. Keep a folder on your computer or phone with some of the best and most current. Not just face pictures, but especially if your dog or cat has special markings, keep a few pictures of them from different angles.
Along with keeping a few pictures readily available, you can take this a step further and have a "Lost Cat" (or dog) poster already on your computer and ready to go. This might seem unnecessary but think about it. Your cat or dog has just bolted out the door, do you really want to have to go back into the house and spend 20 minutes looking for pictures and putting a flyer together? Having a flyer already done, or at least, the basics of one (where you just have to update the date, location, etc) can save you a lot of time when every minute is crucial.
When (If!) Something Happens
The first thing is, don't panic. Ok, maybe a little panic is a good thing (it's a great motivator). But, remember the statistics above. Chances are, you'll find them, but you need to act quickly! It's imperative to drop everything and start this process. Every minute counts.
It's best, at least, immediately, to work with someone (or, several people) as a team. One person needs to search the area, knock on doors, and try to find out if anyone has seen them and which direction they were headed.
The second person needs to immediately print flyers and start hanging them, everywhere. If you followed the step above you already have your flyer ready to go. But, if not, you can use something like Microsoft Word to put something together or you can use a site like Poster My Wall. They have many templates to choose from and even though it's free to design a flyer, they do charge a small fee (I think it's about $8) to be able to download the image in a hi-res format. You can take a screenshot and use that, but for $8, it's probably worth it to just get the original so you can have a quality image. A color flyer is best, but if you don't do color, print it on colored paper. It'll draw more attention. You can print them yourself at home or send the file to a local UPS Store to have them printed. (if you go with color, this might be the most cost-effective way)
As stated above, hang them everywhere…on telephone poles, at stop signs, bulletin boards, grocery stores, coffee shops, pet shops, hand them out to neighbors. If you live in an apartment complex, the area where everyone picks up mail is a great place to hang these. Keep a list of where you've hung them and re-check every few days (in case someone removed them).
Now you can begin going to pet organizations and asking for help. Take the flyers and start visiting shelters, animal-control offices, veterinary hospitals, and rescue groups. You can even reach out to local pet sitters in Raleigh and ask for them to be on the lookout. Drop off flyers and check back with these places daily. At shelters, visit them daily. This is very important. Don't call the shelter, visit daily to look at the dogs they have. They're very busy and even though they're well-intentioned, they could make a mistake and overlook your pet.
Use Social Media
With the Internet and social media, we have many other choices that people in years past didn't. There are numerous Facebook groups and pages right here in Raleigh whose purpose is reuniting lost pets with their families. Check in with these, post your pet's info and check back daily. Many people in the area watch these pages on a regular basis (even if they haven't lost or found anyone) and they share these posts with family and friends. Post this info to your social media accounts and ask friends, relatives, neighbors, and co-workers to share. This can have a huge impact. Other places you can post online to get the word out is Craigs List and Next Door. (there is a list of local Facebook groups and websites at the end of this article)
Don't Give Up!
If you don't have immediate success, keep looking! Keep putting up/replacing flyers, keep visiting shelters, keep posting to social media, and keep asking neighbors. Some pets are found right away, but some (especially cats), may be gone for weeks, or even months, before they find their way home.
This isn't meant to be an all-inclusive article and I hope to add to it and update it regularly. If I've left anything out or if you think of anything to add to it (especially online resources), please let me know! Feel free to respond in the comments section below or send me an email (joey@allcritterspetacre.com) .
~ Joey
If you're searching for local pet sitters in Raleigh, we hope you'll check out our pet sitting and dog walking services for the Raleigh and Cary area.
---
Local Resources:
Lost & Found Pets inWake County Facebook Page
Lost & Found Pets of the Triangle, NC Facebook Page
Raleigh, NC Lost & Found on Craigs List
Other Online Resources:
Pawboost (free service to list lost pets but you can pay a fee to "boost" your listings for more views on Facebook)
Lost My Doggie (online service that charges a fee to call numbers in your area)
Finding a Lost Pet (article from the ASPCA)
10 Steps to Find a Missing Pet (article from HealthyPets.com)